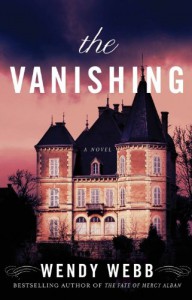 I was so happy to get to curl up with this book on a beautiful snowy day. This is a perfect book to read on a snowy day or night, I am a wimp and get scared easily so I decided to read it during the day. This is a story about a recently widowed woman, Julia, who takes a job being a companion to an elderly woman in an old mysterious mansion. She takes the job because she wants to get away from her life after she, and the rest of the world, find out her husband has been stealing from investors. When odd things start happening at the mansion she wonders what exactly it is that she agreed to.
I was drawn to this book because of the mysterious yet enormous mansion, Havenwood. It seemed like the perfect spooky setting for this book. I was easily drawn into the story and found myself progressing through it very fast. I loved getting to read about the history of Havenwood and seeing how it all connected to the present events. All the events in the book build to the end where revelations where made about what truly had happened at Havenwood. I was dying to know what had happened and so when the first few twists were unfolded at the end I was happy to finally find out what had happened. Then the other twists started coming and it was just twist upon twist. It almost seemed like the author didn't know how she wanted to end the story so she just threw in a bunch of twists so she could include all her different endings. Usually I am a huge fan of twists and turns in a book but it just seemed a bit excessive.
I would highly recommend curling up in front of the fireplace with this book on a snowy winter's day or night. You will be hooked into this book and left with chills.
Thanks to NetGalley and the publisher for allowing me the chance to read this book.
Reading Updates:
28%:
This is such a perfect book to read today. It is a beautiful snowy day and I am curled up inside reading this. This has a mysterious old house in Minnesota, in the middle of winter, which seems to be filled with ghosts. Throw in a once famous author but now eccentric old women who the world thinks is dead and count me in. I really enjoy following Julia as she learns more about Havenwood. I can't help but think Amaris Sinclair's stories, the history of Havenwood, and Julia are all somehow connected. I am off to go read more.