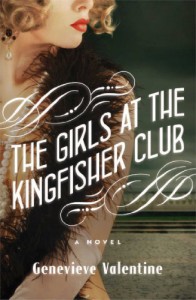 Dancing was the only time any of them ever really smiled. They were never alive until the music was shaking the floor under their feet.
This novel was a re-imagining of the fairytale "The Twelve Dancing Princesses." I can't comment on whether it was very similar to "The Twelve Dancing Princesses" as I have never read it, but I can say that this novel is enjoyable even if you haven't read TWDP. This novel follows twelve sisters during the roaring twenties as they sneak out of their house, away from their overly controlling father who wants nothing to do with them, to dance the night away in speakeasies. I am still just baffled at the thought of twelve sisters living together in one house and managing not to tear the house down.
All of the sisters in this book seemed to have different personalities but they were all really interesting to read about. This book does tend to focus on Jo, aka General, the oldest of the girls. I liked that she was not just the leader of the group, she also had her internal struggles that the others didn't really know about. They may have resented her and how controlling she could be at times but she really made sure that they stayed safe and protected from not only their father but from the dangers of the outside world. I really enjoyed reading about the secondary characters of this book, mostly those people that they meet at the speakeasies. I grew to love them as much as I loved the sisters.
After the big confrontation about 3/4ths of the way through it was really interesting to see how different the girls' lives become and to see where they ultimately end up. I grew to feel as though I was a thirteenth sister and was really happy to see how they all progressed throughout the novel. The ending seemed to cut off right as something really good happens and readers are left to their own imaginations as to what happens with Jo, Tom, and Lou. I like to think that they all lived happily ever after.
Thanks to NetGalley and the publisher for the galley.